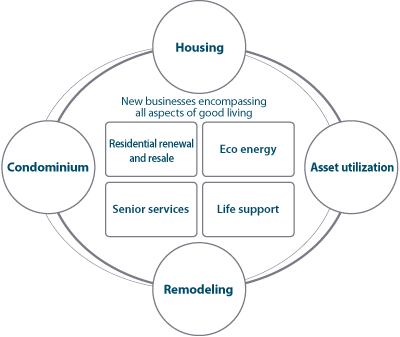 Comprehensive services
for quality residences
Sanyo Homes offers a full line of products and services for quality residences. Operations are centered on the four core businesses of housing, asset utilization, condominiums and remodeling and also include a variety of services that support good living. All activities are focused on the goal of giving customers the assistance they need to lead an even better life.
Business Concept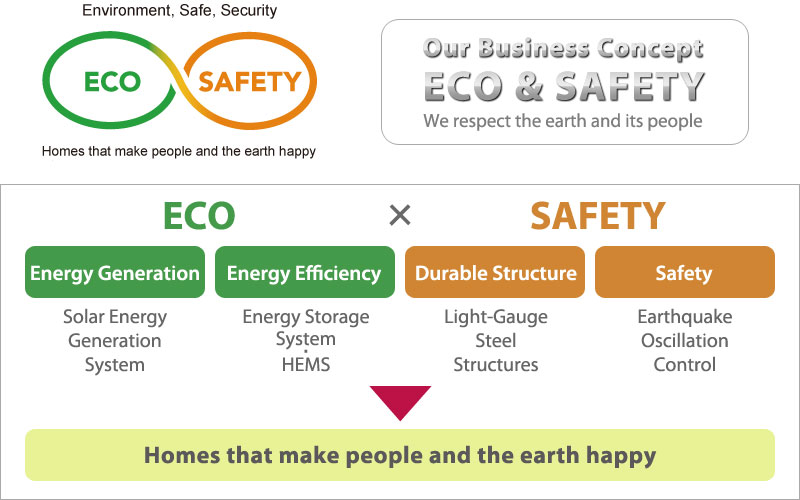 Housing Business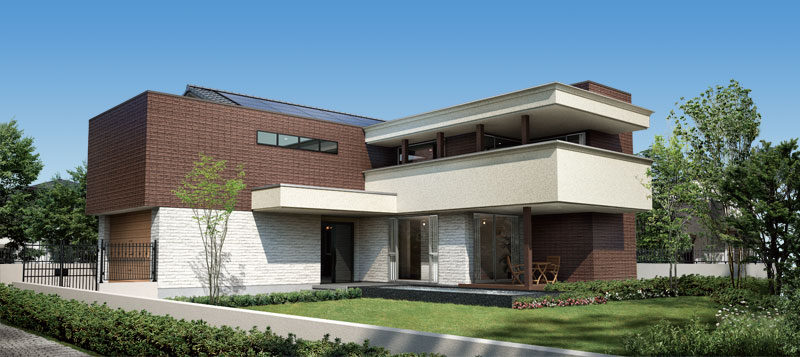 We have thought a lot about rebuilding houses that need a large investment and the increased burden on the environment of waste products. Our aim now is to build long-lasting houses without the need of rebuilding. With this aim, we are very particular about the invisible areas and places that are difficult for making modifications in the future.
The three main criteria used by Sanyo Homes for Long-lasting Houses.
Strong construction for resistance against structural deformation and natural disasters anticipated over the next 100 years
Flexibility to meet future changes in lifestyles and family structures
Easy maintenance for checkups and repairs

Zero emission house

Light-Gauge Steel Structure

Preparing for earthquake

Loosening Free Nut

Structure
Condominium Business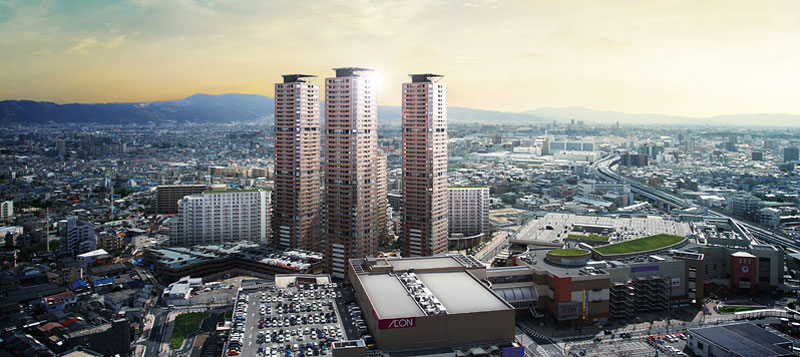 Sanyo Homes focuses on environmental considerations and quality when building condominiums. We create living spaces for now and the future based on the themes of ecology and safety. We had constructed 110 buildings with 12,347 units as of October 2013 at carefully selected sites by utilizing our sophisticated business know-how acquired over many years.
The largest site in the western Japan and the highest number of units supplied in Osaka

This project has 1,163 units, making it one of the largest condominium complexes in western Japan. Completed in 2007, Sanmarks Dainichi holds the record in Osaka with 407 units.

Received the Good Design Award* in 2009


"THE KITAHAMA", which has a height of 209 meters, has the most condominiums in Japan and received the 2009 Good Design Award in the category of residential houses and housing complexes.

Nation's first multi-generation symbiotic condominium building.

"SAN Four-Leaf TOWN SAKURANOMIYA" is the Nation's first multi-generation symbiotic condominium based on the "smart wellness housing/city" concept being promoted by the government. (Features a day-care center for children and a nursing facility)

* What is the Good Design Award? The Good Design Awards is a comprehensive program for the evaluation and encouragement of design organized by Japan Industrial Design Promotion Organization (JIDPO). It evaluates beauty as well as basic factors for products, architecture and the environment such as function, quality and stability. It also evaluates how we place importance on the community, the region and the environment.